Oswego Health Behavioral Health Services
Oswego Health is determined to transform behavioral mental health care in Oswego County.  After receiving a $13 million grant from the New York State Department of Health, the construction of the Behavioral Health Services facility became the forefront of this mission.  Once an old Price Chopper, this 42,000 square foot structure is being fully renovated into a new 32-bed inpatient unit and related outpatient behavioral health clinic facility.  This new location will offer a welcoming, soothing, and healing environment.  It will include secure outdoor spaces, comfortable interior areas, and a kitchen area.  The architecture of the building itself will be landscaped to match the neighborhood, mirroring the overall downtown revitalization plan.  It is also conveniently located near Oswego Health's main campus and Emergency Department, making it convenient for physicians and other staff members.
The journey of this health facility's construction has been exciting and challenging.  It began with the removal of roofing and continued by cutting away parts of the concrete slab to make way for new plumbing trenches.  Two courtyards, approximately 2,000 square feet each, were then cut into the building. Underground plumbing was completed by Oswego Mechanical, footing excavation was completed by Shawn Malone Excavation, Edward Schalk & Son completed framing, and Jeffords Steel & Engineering Co., along with Homer Iron Works, installed the structural steel and new roof decking.  The winter weather has presented unique challenges, especially in regards to roofing work, but despite the blistering conditions, the job has been going well.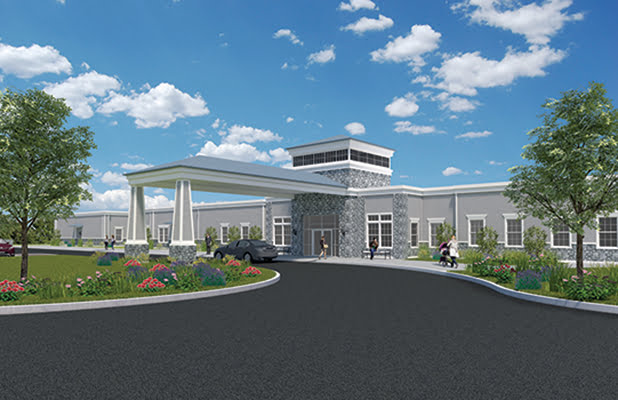 As of the second week of February, TPO roofing was completed, all rooftop units and fans were set, the building's generator was set, and interior framing is well on its way.  In wall and overhead rough-in is in the beginnings, door frames are being set, exterior sheathing is being placed in the courtyard areas, and the front entrance trusses are being erected.  These trusses will create the beautiful canopy shape which can be viewed in the 3D rendering of the finished building.
Oswego Health's Behavioral Health Services is making great progress and will serve as a new model of care at its completion, truly transforming the healthcare options available in Oswego County.  We are thrilled to be part of a project that will make such a positive impact on the community!